Class D system/ Accurate Speaker Driving
Actual live sound contains very slight signal . When we reproduce a music, those slight signal plays important role for space expression, tone quality of instrument, etc. So, we need to drive speakers accurately. But, as a matter of fact, it's not so easy to drive a speakers accurately because speakers generate the "Counter-Electromotive Force". When an amplifier send electrical power through a speaker voice-coil, the voice-coil and cone move. Then a moving speaker also generate electrical power and send it back to the amplifier. This "Counter-Electromotive Force" exerts an adverse effect on accurate speaker driving. A speaker is also a dynamo.
We can easily see the "Counter-Electromotive Force" striking on the cone.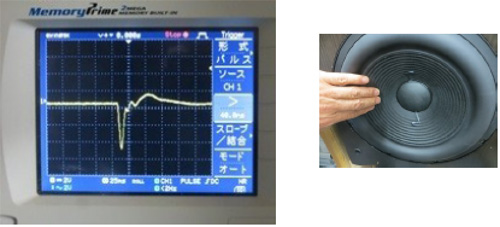 SPEC focus on Actual Operation State.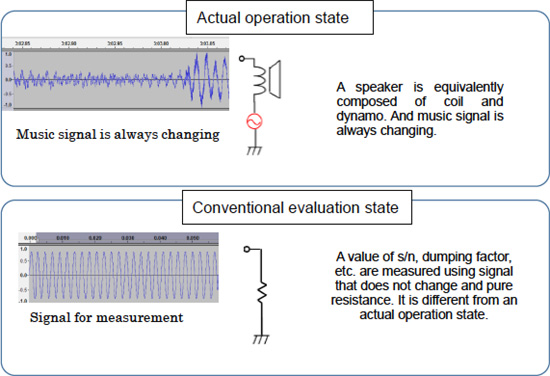 Counter-Electromotive Force should be absorbed by output stage of amplifier. For that, the impedance of output stage should be very low.
A conventional analog amplifier controls output voltage varying internal resistance of transistor. As output device is equivalent to variable resistor, those output impedance is not so low as a device itself. Counter-Electromotive Force is absorbed by feed-back-loop.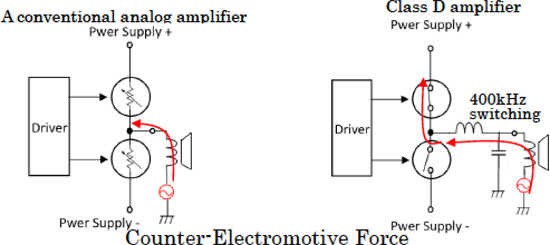 ON the other hand, Class D amplifier controls output voltage by switching duration of MOS FET. Because the output device is only a switch, the impedance of output itself is very low (during SW-on). Therefore the output device can absorb a part of Counter-Electromotive Force directly through the "SWITCH" .This operation reduce a load of feed-back-loop and enables more accurate speaker drive especially for mid-high range. The feed-back-loop for mid-high range is difficult to operate ideally.
In addition, Because Class D amplifier send energy from power supply into speakers directly and instantaneously ,
we can reproduce the music signal that rises steeply as it is.
Furthermore, because Class D system is using switching technology, the power stage doesn't generate heat at all.

You can't find any cooling hole on the SPEC amplifiers. Depending on this fact, we can apply "wood" for resonant control. All of SPEC's amplifier is using Class D system and Wooden panel.