Technology of the top of our lineup the superb "Real-Sound" of RSA-F33EX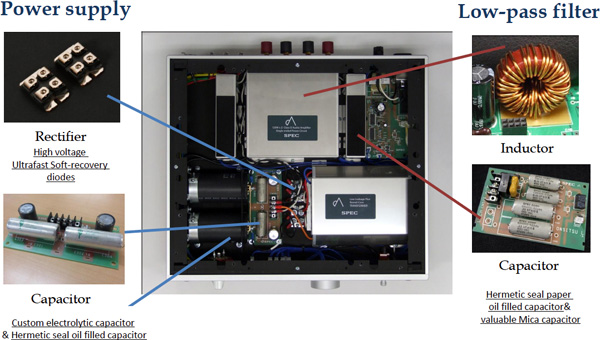 The "Real-Sound" is supported by the excellent performance power supply with classical analog design of RSA-F33EX
Rectifier

A newly developed withstand high voltage " Ultrafast Soft-recovery" diodes for professional use in RSA-F33EX ensures clear and transparent but also rich and powerful sound with spacious atmosphere across the entire range.
Capacitor

The main custom electrolytic capacitor and the high voltage custom oil filled capacitor for best signal-use in parallel achieve smooth and beautiful sound over upper and middle range to the ultra-low range.
The low-pass filter at the final stage determines the highly sophisticated sound of RSA-F33EX
Capacitor

The custom made genuine paper oil filled capacitor by Arizona capacitors, Inc. with excellent sound quality and the rare and valued mica capacitor employed achieves the artistic " Real-Sound "of RSA-F33EX.
Inductor

Special made inductor selected only by hearing allows the low-distortion and like an open air sound through the entire range.
Wooden base-chassis and insulators realize rich & acoustic instrument-like sound of RSA-F33EX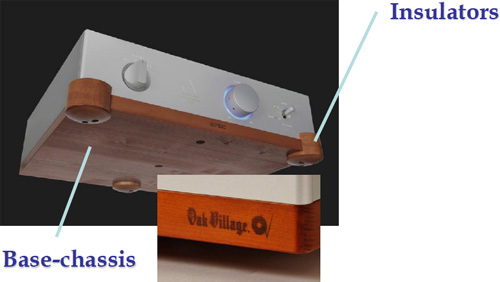 The three insulators combine pure real maple from Hokkaido, Japan and hickory moderates the vibrancy of the spruce base-chassis and cut off the vibration from out side help provide nice musicality.
A solid laminated panel of European spruce from Austria is used for the base-chassis produces a rich & warm pleasant sound.
↑page top