The rich, sweet tone and exceptional powerful RSA-M3EX's "Real-Sound" realizes true delight of music

Two types of oil-filled capacitor used in low-pass filter reproduce both tonal characteristics of finest vintage tube amplifier's tone and above all modern vivid sound
Two types of custom oil-filled capacitor made in USA by Arizona Capacitors, Inc. and exceptional high quality mica capacitors are adopted in the final stage of the amplifier's circuit for the best suited reproducing any kind of music with deep, tender and also fresh tone for our hearing.
Custom made inductor featuring special ring core selected only by hearing allows the low-distortion and like an open air sound through the entire range.
Outstanding power source ensures high quality and dynamic sound of RSA-M3EX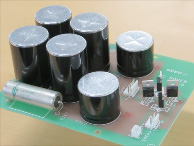 The latest SiC (Silicon Carbide) schottky diodes, designed to completely eliminate switching noise,
achieve not only transparent, beautiful but also very powerful and clear-cut low-range.
Multiple electrolytic capacitors with different audio characteristic are used in parallel to ensure a well-balanced sound across the entire range. In addition, high voltage paper-oil filled capacitors, connected in parallel to improve the characteristic of ESR (Equivalent Series Resistance), achieve a precise and fascinating tone over the mid to high-range.
↑page top