New era of amplifier raises the curtain with our renewed "Real-Sound" of
RSA-717EX

New class-D amplifier with latest integrated device
Most advanced class-D devices integrated PWM controller and two power MOS-FET fully optimized audio performance bring the sound with sense of speed and accuracy into reality .
A very compact size printed-circuit board and shortest wiring achieves ideal class-D characteristic. And also it realizes the natural, fresh and at the same time full of dynamic sound.
Natural & Organic sound of advanced AC-DC switching power supply of RSA-717EX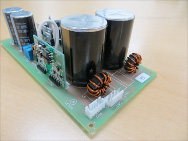 Thanks to the cutting edge switching controller device and latest SiC (Silicon Carbide) diodes,
this new switching power supply could realize well damping, also massive low range, comparable
to the finest analog design power supply.
Custom oil filled capacitor and ultimate quality mica capacitor, adopted in this power supply bring highly transparent mid to high-end with fully free from switching noise.
New compact size design and construction with real side-wood and insulators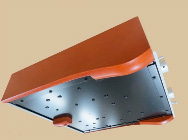 Real " Spruce " used for side-wood and real "Maple" adopted for insulator are combined to cut off vibration effectively, contribute to the musical sound of 717EX.
↑page top