"CR Equalizer" in Pursuit of "Real-Sound" Faithful Reproduction of Rich Information Contained in Analog Vinyl LPs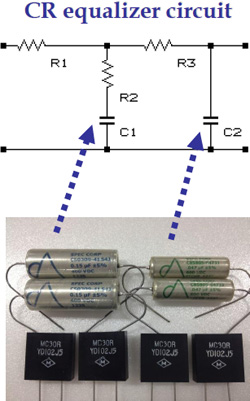 Thanks to the latest ultra low-noise, high-gain operational amps, we could adopt "CR equalizer",
it has basically a minimum number of exclusively passive devices and excellent phase characteristics.
Because of its simple circuit configuration, the sound
character of each passive devices used in the CR equalizer determines the final sound quality of the phono equalizer.
REQ-S1EX employs two types of highest quality
"oil filled capacitor" custom-made by Arizona Capacitors, Inc. featuring different tonal character and "mica capacitors" with ultimate sound quality.
They contribute to the straight, highly transparent, information-rich sound quality of the "Real-Sound phono equalizer".