High-quality audio grade switching power supply
In any amplifier, the DC power supply circuit has an important effect on sound quality.
Although switching power supplies have excellent energy supply characteristics, to date they have not commonly been used in audio device applications. We have combined "Hibiki-ichi," a capacitor designed for class-D amplifiers that delivers abundant reverberation, with silicon carbide diodes optimized for high voltage, large current flows, in the development of a high-quality audio grade switching power supply. This power supply provides large amounts of clean current instantaneously at a class-D power stage.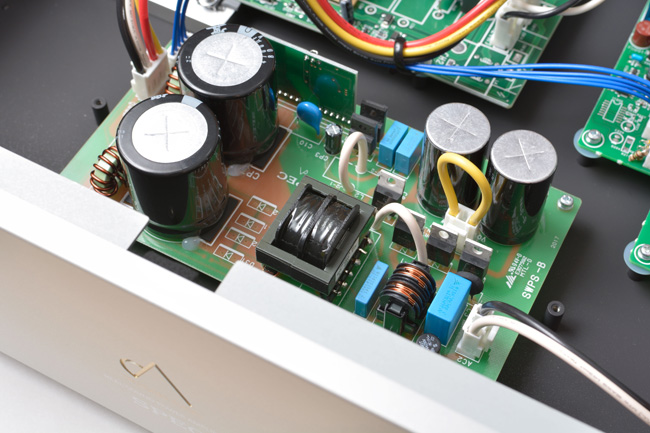 SWITCHING POWER SUPPLY and EMC coating
The combination of an audio grade switching power supply and a PWM-type class-D power stage allows energy to be conveyed instantaneously and directly to the speakers from an AC input for quick, powerful playback. Furthermore, the PWM-type class-D power stage absorbs any counter electromotive force generated by the speaker, and is able to both drive and halt the speaker instantaneously.
It is this accurate speaker function that makes it possible to reproduce the "music" of a live performance. We believe that these dynamic characteristics are essential to achieving realistic sound.