The network Player RMP-X3EX can enjoy to the utmost due to the fact that high resolution sound source create reverberation and feeling or air that's is why you can listen it. We deliver A reverberation on floating in silence, glossy sound, more delicate emotions lurking behind the tone.
RMP-X3, a network player at the cutting edge of source components
Really detailed and really fresh sound is realized by a frightful amount of information. RMP-X3 reproduces the sustain and atmosphere of the high resolution audio sources. The sound is not only high resolution but full of musicality. It is a realistic "real sound". The sound taste is depends on our concept, "Audio Device is a musical instruments. RMP-X3 reproduces almost all the format and supports the Roon. The Roon covers the Tidal. Future firmware updates are performed via your LAN keeping your device up to date and up to task.
Underbase and insulators that deliver natural reverberation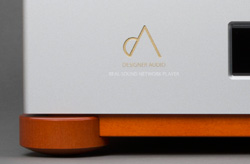 The European spruce underbase
and Hokkaido maple insulator
The X3 features a base constructed from beautifully resonant natural wood, a technique acquired from the construction of SPEC amplifiers. We have used wood as a structural material since the construction of our very first product, the RSA-F1, because in addition to design considerations the wood underbase moderates the vibrations of the entire chassis, further supported by a wood insulator that provides rich, natural reverberation. As a result of a range of tests, we utilize the same European spruce used in violins and cellos for the underbase, and utilize the insulator crafted from maple solid wood from Hokkaido -- which is also used in the construction of piano keyboards --processed into a round shape. This results in a "spec" sound with a richly expressive reverberation that is pleasing to the ear. This use of the same wood "material" that is used in musical instruments is consistent with our concept of audio products as musical instruments.
Analog power supply equipped with the newly-developed "Hibiki-Ichi"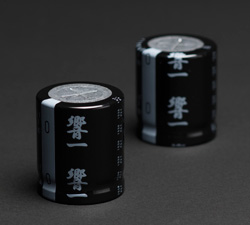 New development
Nichicon's Hibiki-Ichi
The analog power supply features newly-developed Hibiki-Ichi electrolytic capacitors from Nichicon Corporation that deliver ethereal sustain and truly beautiful tone. In developing the Hibiki-Ichi, Nichicon sought to achieve a capacitor capable of delivering rich natural sound with a feeling of speed, and our engineers also took part in their evaluation.
On the technical front, the Hibiki-Ichi electrolytic capacitor has the following characteristics:
Electrolytic paper: Utilizes thin electrolytic paper newly developed specifically for use in audio. Reducing the thickness of the electrolytic paper ensures rapid response.
Element-stopping tape: Newly-developed tape conceived from the Nichicon "MUSE."
This tape adds depth, producing a powerful sound.
Case: Internal construction has been revised for use in audio products.
This curbs peaking, and adds a mellow quality to the sound.
Thorough measures against noise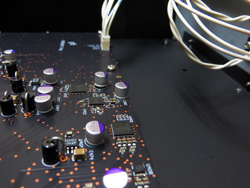 EMC coated chassis
Above all, high resolution audio is known for its reproduction of detailed, subtle musical signal across a broad range of frequencies. The signal-to-noise ratio is an essential element in extracting 100 percent of this potential. A huge number of digital calculations accompany the playback of high-resolution audio files. The X1 features completely discrete network and digital decoding blocks, with the isolated signal sent to the D/A converter block shutting out digital calculation noise. Additionally, EMC coating is applied to the inner surfer of the chassis, reducing internal high-frequency noise still further. Moreover, placing the power supply in a separate housing eliminates noise from the transformer completely, allowing extremely transparent audio playback.
A jitter-free clock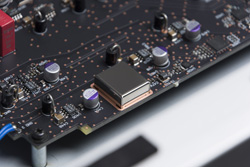 The quality of the clock is directly linked to the quality of the sound, since the operation of digital audio components is based on the master clock when converting digital data into an analog form. In the RMP-X1, the master clock created in a high-precision, ultra-low jitter TCXO (Temperature Compensated Crystal Oscillator) is transmitted as a differential signal, nullifying jitter effects and delivering extremely stable quality.
Utilize of independent D/A converters on the left and right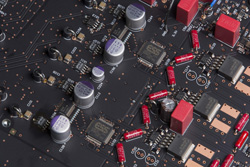 These products feature ESS Technology's D/A converters, renowned for its high performance, on independent left and right channels. Operating them in perfect synchrony with the input signal produces an analog signal of extreme purity, which is then tuned with sound quality parts to deliver "SPEC sound," which is the real sound.
Compatible formats
Compatible with all formats, including DSD 11.2M
PCM : 44.1 kHz, 48 kHz, 88.2 kHz, 96 kHz, 176.4 kHz, 192 kHz, 352.8 kHz, 384 kHz
all in 16/24/32 bit
AIFF, WAV, FLAC, Apple Lossless (352.8 kHz and 384 kHz are only compatible when uncompressed)
DSD: 2.8 MHz, 5.6 MHz, 11.2MHz 1 bit (def,diff)
All formats are compatible with gapless playback.
(Gaps will appear between songs when playing back different formats)
supports the Roon. The Roon covers the Tidal.
Software update
Software updating over a LAN ensures that products can always be up to date with the latest functions and performance.
In closing
Digital audio, which began with the advent of the CD, has been rising sampling frequencies and quantization rates, and systems of increasingly high quality, in a sense it appears to be approaching analog transfer. While analog records are items from the past and cannot be said to have a broad range of frequencies, some have been reissued in recent years, and there is an undeniable allure to their sound. It is against this background that we also released the supreme class Analog Record Player and we will continue to combine high sampling and mature analog technologies to work towards a world of musical richness that can only be achieved with high-resolution audio.


Rear Panel
Specifications
Main unit
[Output]
Unbalanced RCA
2Vrms
Balanced XLR
2Vrms
[Input]
Network
LAN RJ45
External Clock
BNC 50ohm 10MHz
External dimensions
440 mm (width) × 124.5 mm (height) × 386 mm (depth)
Weight
9.5kg
Power supply unit
Electrical consumption
45 W
External dimensions
260mmmm (width) × 124.5 mm (height) × 372 mm (depth)
Weight
7kg
* Due to improvements the above specifications and external appearance may be changed without notice.
↑page top