The technology driving the sound
The basic technologies of this lineup are "Audio class switching power supply" and "CLASS D technology".


Energy flow to the speakers
These technologies send energy from AC-INPUT to SPEAKERS with greater speed. In addition, because the "CLASS D" has a high driving ability, it can drive speakers with pinpoint accuracy against counter-electromotive forces. (Please refer to "TECHNOLOGY" tab in this site). This allows you to enjoy the playback of music as it was recorded, raw and untouched. This is what we refer to as "REAL-SOUND".
For the RSA-777EX we utilized "HIBIKI-ICHI" capacitors in the "Audio class switching power supply".
"HIBIKI-ICHI" was developed with the goal of rapid response and natural tone in collaboration with world renowned capacitor manufacturer "NICHICON". The "HIBIKI-ICHI" brings out even more texture for a more musical sound.
You can see the JAPANESE KANJI on the surface of capacitor. This KANJI is pronounced as "HIBIKI-ICHI", and ''HIBIKI" means vibrancy.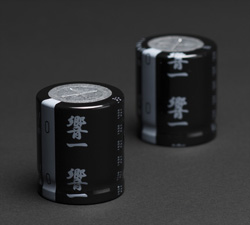 HIBIKI-ICHI
We further improved the "CLASS D" technology by using some newly adopted parts. "CLASS D technology" is extremely sensitive, SPEC CORP. compared many parts and found parts optimal in our pursuit of "Real Sound". This newly improved "CLASS D" brings you all of the musical information, so you can hear all the subtleties in the recorded material. By means of these improvements, the RSA-777EX is able to reproduce higher musical resolution and more natural tonal characteristics. You will notice it is very close to live sound.

METAL FILM RESISTOR
Our proprietary resistor developed in our quest for "Real Sound".